The Colonel Webspread Adventures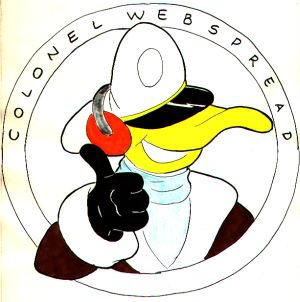 Description:
Between 1991 and 1993, I was involved in re-creating a character called "Colonel Webspread". To do this, I created an entirely new character as well as villains, giving them adventures which took place in the modern corporate world of Scientology management around L.A. (I make no bones or apologies for whatever you think of that scene. I was in it at that time and now am not.) It's the art I'm presenting here as a matter of record and exploration.
The key advantage to these was to take themes and situations which were occuring around the buildings and between the staff and add some humor to it. Each of these had a moral, a lesson that resulted. But they were completely off the scale as far as reality.
Initially, these were single 3-frame panels which ran in a daily internal "organ" distributed to all the staff. As these continued being popular, I branched out into full-page versions and then into multi-page adventures. Right at the end of that organ's run (they ran out of resources for daily production) I was right in the middle of a multiple-installment panel series, which hadn't even been completely written as to plot. So I started posting the dailies on a local bulletin board to support my fans. (It turned out to be 15 panels long.)
After that, as I was no longer hindered by the black and white format, or even a specific size, I started experimenting with larger formats and longer series. As well, I colorized these and shrank them to letter size with color xeroxes. Then they started showing up on that bulletin board again.
This PDF is scanned from my collected works. This doesn't include all the works, but mostly the longer adventures. (There really is no complete set, since some of the originals and any xeroxes of it were lost over the years.) And they are practically in reverse order, but you see the progression in style and quality.
Format:
These had a variety of techniques. Most of the blacks and outlines were by black marker on blue-line pencil. Grays were by illustrator pencil or wax pencil. These were drawn and inked with a combination of black markers in various sizes, preceded by a blue-line pencil. Colored markers supplied color, which had uneven results, due to the inexpensive art paper I was using. (I believe the best yellow was actually a hi-lighter.) Some of the yellowed background color was due to the aging paper, but the scanner used also had its defects. For now, please enjoy.
Methods:
Black and colored markers over blue pencil, wax crayons.
Sample:
The Colonel Webspread Adventures
---
---
Thanks for visiting this site and sharing this information.
If you've found it valuable, please consider donating via PayPal to enable our continuing research.