Shadows - a comic book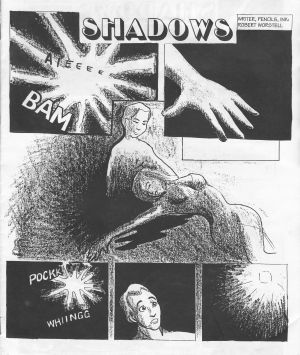 Description:
Around 1994, I was working into studying the make up of comics and also the literal cut and paste methods which were being surpassed by computer desktop publishing. My tools were a dot-matrix printer, a b/w xerox machine, and my own pen/ink talents.
The idea was to see how such a comic could be produced. Instead of trying to recreate a classic comic-book size (which fits no regular format that I can discover, in terms of shrinking down from standard paper sizes onto a standard paper size via xerox without trimming) - instead, I went to letter-sized so that I could print it out on 11x17 stock and staple it together. Only one ended up being produced, which is where these scans came from.
The text was from a dot-matrix printer. It wound up too small. Going to letter-sized pages threw the scale off. Nowadays, you simply scale the text up or down until it fits, then print the whole thing off. (Nice invention, computers.) But this was in the days of cut-and-paste. And I didn't have time to re-do this over and over to get it right. Spare time was my only real production time.
For a story, it seemed to write itself as a script. Computer games were getting popular and were still more on computers than game consoles - but the idea was getting "lost" in the game.
Format:
The point of this was to produce it entirely in b/w. And the solid blacks were required. Grays were by illustrator pencil and wax crayon-pencil. Pen and ink was both traditional and also black markers. This was all pasted together.
Methods:
Pen and ink, black markers over blue pencil, wax crayons. Dot-matrix text.
Sample:
---
---
Thanks for visiting this site and sharing this information.
If you've found it valuable, please consider donating via PayPal to enable our continuing research.